After an Outstanding Stone Cleaning in Webberville, TX This Shower Is Now Restored
October 03, 2023
A homeowner from Webberville, TX, wanted to give her shower a makeover. It was a sturdy natural stone surface, but in poor condition, which made taking showers an unpleasant experience. The owner was unhappy with this situation and was too busy with work to solve the problem herself. With limited options, she decided to look for a professional hard surface restoration company. Thankfully, our
Webberville Stone Cleaning
experts came to the rescue and saved the day.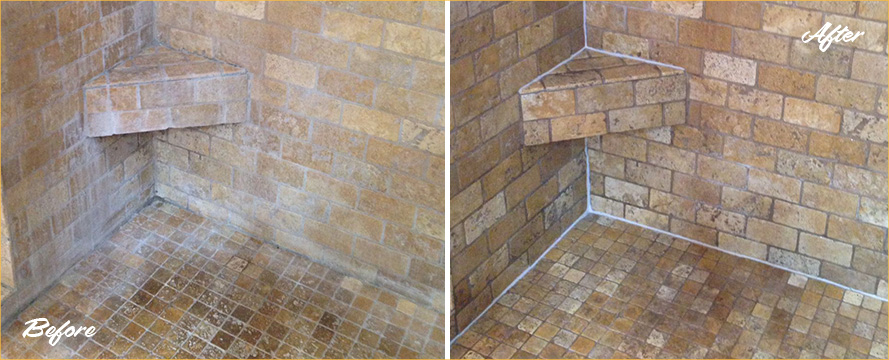 While the owner was searching for a hard surface restoration company, she found Sir Grout Austin's advertisement in a magazine. To learn more about us, she visited our website. After browsing our
picture gallery
, and reading the positive feedback our satisfied customers leave us every day, she called us, explained the issue, and asked for a free assessment.
The request was quickly processed, and a couple of days later, we arrived to provide the in-home consultation. The owner was expecting our visit and let us into the affected area. As we entered the shower, we noticed the problems on the natural stone surface. The joints were damaged, the grout was dirty, and there were soap-scum stains. As a result, the entire surface had an unsightly appearance. Upon closer look, we learned the surface needed sealing. We explained unsealed stones are exposed and it's essential to apply a special sealant to prevent further damages.
The evaluation gave us the necessary information to offer a solution. Since we had determined regular cleaning wouldn't work, the restoration would require Sir Grout's professional process and top-notch equipment. We proposed a stone cleaning service to address all the damages and give the shower a brand-new look. The owner accepted the offer and hired us for the job.
The restoration of the natural stone shower began a few days after the inspection. When we returned, we prepared everything we needed and proceeded with the multi-step process. First, we cleaned the surface using our exclusive, stone-safe cleaner and a high-speed scrubber. Our product is pH-neutral and doesn't contain any harsh properties, so it won't cause any damage. After applying the cleaning solution, we got rid of the soap-scum stains. Once the shower was spotless, we continued with the grout repairs.
Depending on the damage, this task can be challenging. Common methods are not effective against stains, discoloration, and other signs of deterioration. Because of this, it becomes a headache for many homeowners. Sir Grout Austin, on the other hand, has the tools and the expertise to easily fix all the issues on this vulnerable component. We worked on the entire surface, giving the grout lines a new look. For the next step, we addressed the caulking.
Since the caulk in the joints was in poor condition, we replaced it with epoxy grout. This product has highly durable composition and it's ideal for showers because it's resistant to mold and mildew. After that, we finished the job with the sealing process. To ensure unmatched defense and long-lasting results, we applied a coating of clear seal. This added an extra layer of protection, warding off dirt, grime, and other external agents, reducing degradation from daily use. As expected, our work was successful, the stone had been fully revamped, and the shower looked amazing.
With our goal accomplished, we called our client and showed her the results. The owner was very impressed with the beautiful new appearance of her shower. She was thrilled because the process had been fast, efficient, and cost-effective. Before we left, the owner thanked us and assured us she would recommend Sir Grout Austin to everyone.
Heavy wear and tear can lead to quick deterioration, and because of this, showers require proper care. Following Sir Grout's recommendations is the best way to keep these difficult areas looking great. We suggested setting a regular cleaning routine. Perform this chore using only soap-free cleaners like
Sir Grout's Natural Hard Surface Cleaner
.
Our product doesn't leave any residue and it's made with high-quality ingredients. It is also non-toxic and safe for everyone in the house, including pets. Avoid using soap-based cleaners and substances with acidic properties. The harsh agents and chemicals in these products can have negative effects on the stone. They also leave sticky foam that seeps into the grout, which contributes to decay and more damage.
It is imperative to take measures to prevent mold and mildew growth. These fungi are a threat, and before long, they can pose a health hazard for everyone. To keep this problem at bay, make sure to provide a source of fresh air by leaving the door ajar or window open. After using the shower, dry the surface with a squeegee, a towel, or a terry cloth rag. Squeegeeing regularly also helps to keep the shower spotless. When bar soap residue hardens on the surface, it produces nasty stains. Liquid soaps provide a safer alternative that leaves no residue whatsoever.
As you can see, you can't go wrong with Sir Grout Austin's stone cleaning services. If you want to give your old natural stone surface a new look, don't worry, our certified technicians know exactly what to do to help you. As a leading company in the hard surface restoration industry, we have years of experience providing reliable solutions to countless satisfied customers. Don't wait any longer and contact us today by calling
(512) 580-3003
or by filling out our "Request a Quote" form for a free in-home consultation. If you would like to keep up to date with our latest info and promotions, please subscribe to our
newsletter
.