Our Grout Sealing Experts Brilliantly Restore This Master Shower in The Hills, Texas
December 01, 2022
Shower cleaning is a challenging chore. These locations are constantly in contact with water, which can lead to rapid deterioration. Depending on the level of the damage, typical cleaning may not produce the desired results, making the process difficult. This homeowner was dissatisfied with the state of his shower. The surface had seen a lot of wear and tear and looked filthy and unpleasant. He cleaned regularly, but nothing he attempted seemed to help. The owner sought professional help after becoming dissatisfied with his cleaning attempts.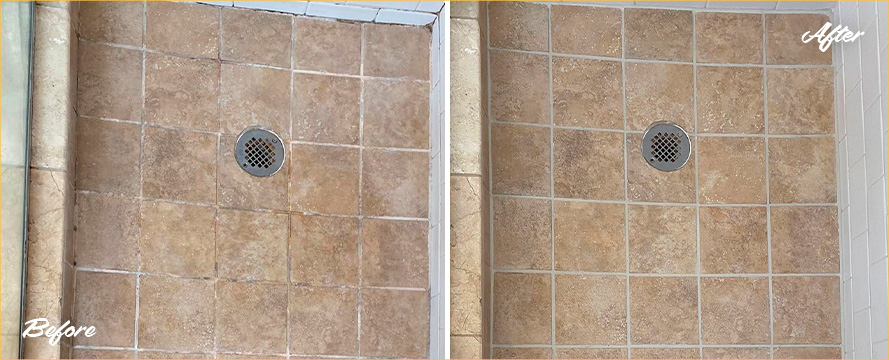 Fortunately, one of his friends recommended Sir Grout Austin. The homeowner's friend was a regular customer, and when he asked for recommendations, she quickly suggested our
grout sealing team in The Hills, Texas
, indicating that we were the best in town. The owner took her advice and went online to look for additional information. He was convinced we were the appropriate decision after visiting our website, reading some of our articles, and visiting our
picture gallery
. The owner called us and requested a free examination to resolve his master shower condition rapidly.
We arrived and started the examination immediately. We saw the issues as we entered the master shower. The grout had deteriorated over time, acquiring an unattractive tone. Similarly, the tiles were dirty, which gave the entire surface an awful look. Furthermore, the grout was not sealed. We explained that this common substance is porous and had been exposed to various external factors that caused degradation. A specific sealer has to be applied to avoid further damage.
Our team proposed a solution with the owner after extensively assessing the master shower. Our crew suggested our grout sealing services after determining that normal cleaning would be ineffective and that the surface required professional attention. We would restore the condition of the master shower and protect the surface using our high-end equipment and top-of-the-line procedure. The owner was so impressed with our evaluation that he hired us immediately.
We returned a few days later with everything we needed to repair the shower surfaces. We prepared the equipment and began our multi-step process as soon as the owner welcomed us back. First, we used our proprietary cleaner to get the surface cleaned. Our product is produced with high-quality components and does not leave a residue, so it will not harm your surfaces. We then steam-cleaned the area and removed any ingrained dirt. This left the shower spotless, so we took care of the grout.
Regular cleaning will not be enough if this susceptible component is dirty, discolored, or substantially damaged. As a result, it becomes a hassle, and many owners find it annoying. Sir Grout Austin, on the other hand, has the equipment and knowledge to address all of these concerns. We meticulously re-caulked the shower's joints and performed a glass trim re-caulking, giving the surface a new look. The sealing procedure was the final step.
ColorSeal, Sir Grout's flagship sealer, was used for this step. Our outstanding product provides unrivaled defense and long-term effects. It repels dirt, filth, and other external agents, slowing degradation and simplifying cleaning practices. ColorSeal significantly improves the surface, giving the grout a consistent color and a brand-new look. It is available in various colors, allowing our clients to match the tiles to the grout easily.
The restoration's results were excellent; the problems had been resolved, and the master shower had been completely restored. We were all prepared to contact our customer and show him our achievement. The owner was happy since everything looked much better than he had hoped. He warmly thanked us and promised to suggest our services to everyone.
Damage and rapid degradation can result from excessive wear and tear. Showers, as a result, require special attention. Following our recommendations is essential for maintaining these difficult locations looking great. We recommended establishing a weekly cleaning practice that includes only pH-neutral, soap-free cleaners such as
Sir Grout's Natural Hard Surface Cleaner
.
Our product is undoubtedly the most effective alternative on the market, providing exceptional results and several advantages. It is also non-toxic and safe for all household members, including pets. We do not recommend using soap-based cleaners or acidic chemicals. These products can negatively influence, in the long run, creating various problems. They leave a sticky foam that promotes decomposition and causes stains, discoloration, and structural damage. Furthermore, they include abrasive substances that harm hard surfaces.
Mold and mildew grow in wet areas, so it's critical to take preventative steps. Those microorganisms are a problem and will soon represent a health risk to everyone at home. To avoid this problem, leave the door or window open, keep a light on, and dry the surface with a squeegee, towel, or terry cloth. Squeegeeing regularly also helps to decrease filth and grime collection, keeping the shower clean.
Our clients can confirm that Sir Grout Austin's grout sealing services are second to none. Please don't put off contacting us any longer. Call us at
(512) 580-3003
or fill out the "Request a Quote" form on this page to schedule a free consultation today. If you want to keep up with our latest news and promotions, subscribe to our
newsletter
.